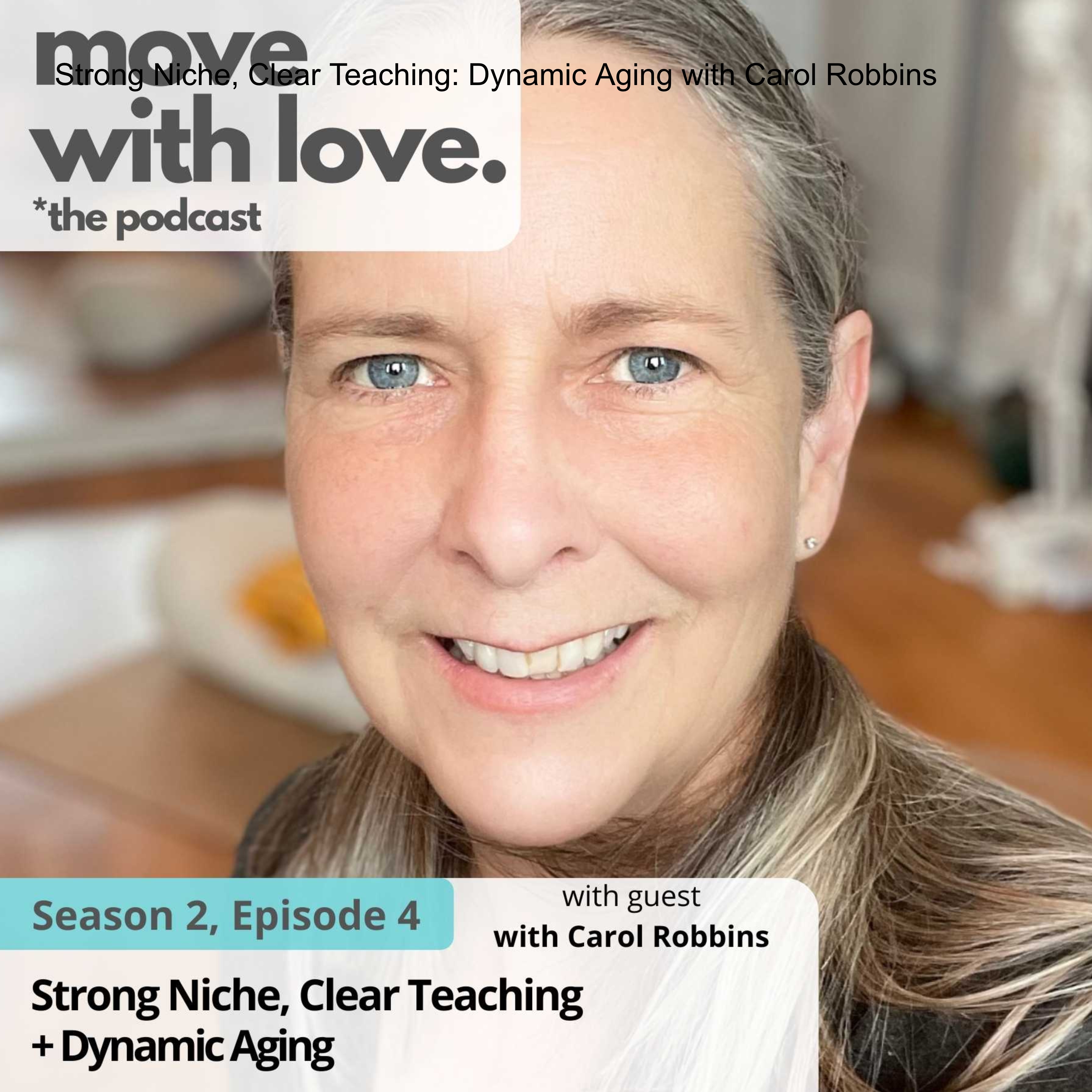 When you know who you teach and how you can help them, it makes your teaching so much easier. We talk to Carol Robbins, a yoga and Pilates teacher who has found success through her clear niche as a teacher. Carol focuses mainly on healthy and dynamic aging and we talk all about how to find your niche, how that provides a clearer roadmap for your sequencing of classes and easier marketing.
Not only do we talk about the importance of niches for yoga and movement teachers, but Carol also shares a ton of interesting information about healthy aging and how that knowledge sets the people in our classes up for success, no matter what age they are. 
About Carol:
Carol Robbins is an evidence-based movement teacher in Toronto, Canada. At 61, she believes that a dynamic, movement-filled life is possible for every body at every stage of life. Carol abandoned chasing youth and dedicated herself to aging well by making the switch from fitness-based practices to a movement-filled life and she can help you to maintain function that suprasses our current perception of how aging looks. Carol has at different times in her life been a horseback rider, mother, Pilates teacher, and currently a Restorative Exercise Specialist and Heart+Bones yoga teacher. Living in a pain-free, functioning body that is capable and willing is a lifelong pursuit - it's never too late (or too early) to become a dynamic ager. Information and online courses are available at
www.carolrobbins.ca
And you can follow Carol for super informative tips and tools on Instagram @alignment_rescue
Want daily tips and inspiration? Follow us:
Instagram: @heartandbonesyoga
Instagram: @heartandbonesyoga
TikTok: @heartandbonesyoga
Heart + Bones Online Yoga Studio
Join our global community moving with love in our Heart + Bones online yoga studio and online courses. Classes that integrate applied anatomy, mobility, playfulness, accessibility... yoga that your body loves. 
Try your first month for $1 with this promocode: PODCASTLOVE